Here I go again. I tell you, there is a reason this blog is a safari. I am always up for an adventure.
My new journey is at CSU in Fort Collins, Colorado. Three weeks ago, I started working on my Principal Licensure. These past few weeks have been INTENSE... but it's all good!!! I have made some
amazing
new friends and hopefully some excellent connections. I am just about done with the three weeks. Once finished, I get to continue working with these new friends on the online component. Then in the fall, it's off to internship world. Fortunately for me, I don't actually need to go anywhere. I can do the majority of my internship in my own building or district. Hopefully though, I will get the chance to visit some other districts.
One of the courses I took this summer was
Leadership and Ethics in Public Education
and the other was
Culture and Climate in Public Education
. They were taught concurrently and the experience was fantastic. For my final project I opted to make a video. I am going to share it here if anyone is interested.
Enjoy!
~Stacey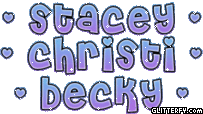 [Glitterfy.com - *Glitter Words*]