Summer is a great time to do some Reading. We always want out students to read too. Here is a nice link to Scholastic's website with some suggested reading lists divided into age groups:
https://store.scholastic.com/search/search/SRC+2016?N=4502+4518&psch=SSO/ps/20160401/Google/txtl/DA_Corp_Summer_Reading/p/summer%20reading%20list/Summer_Reading_Phrase/
A lot of public libraries also have some spectacular summer reading programs. Our local library, Fort Morgan Public Library is doing an excellent summer reading program. If you are local, you can find the details here:
http://cityoffortmorgan.com/CivicAlerts.aspx?AID=1260
.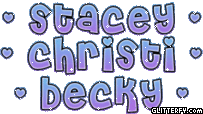 [Glitterfy.com - *Glitter Words*]