I'm not trying to rub this in the faces of my friends in the Eastern States, but for us, summer is six and a half days away. Just sayin'.
We always get so excited when summer rolls around, but we always wonder why our students' behavior falls apart. Please allow me to help shed some light on the subject...Just to give you some background before I start-our school district sits at about a 73% poverty rate. We have super high mobility rate, meaning students move in and out a lot as well as moving from elementary school to elementary school within our district.
Soooo, that being said, believe it or not, many kiddos are nervous or even scared about being home for the summer. Kind of goes against what we think ALL students should feel. You know...the excitement and elation of having NO SCHOOL WORK for three months, right?!? But for so many of these kids, school is the safe place, the place where they get at least two meals a day, the place where they have a routine, the place where people are present to care for them, the place where they see their friends. Some of the children that we are entrusted with
need us
.
Okay, not only that, but the last few weeks of the school year are when we start to forget about daily routines-more field trips are taken, some (amazing) outreach programs visit our schools. We do have some spectacular outreach programs. Here are some links to some pretty amazing places that have visited our school with great outreach programs:
We also tend to be a little more relaxed with our expectations because a lot of assessments are completed by this time. Plus the sun is out longer and the weather is typically nicer which means that hopefully kids are playing outside more. Bedtimes are later and kids are more tired. In addition, we are taking things off walls, boxing things up and packing materials away-this is a signal to the kids that we are done too.
All of this put together, it's no wonder we have more meltdowns (both students and teachers), less patience & more behavior issues. If you pay attention to these things, have some understanding, hopefully you can be more patience and truly enjoy your last few weeks of school.
~Stacey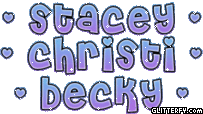 [Glitterfy.com - *Glitter Words*]