Next week, our school district will be having a Professional Development day. Normally this isn't a big deal. We attend, we listen, we learn, we apply, etc, etc, etc. But this time, for me at least, it's a little different. This time, I have the responsibility of being a presenter. It's pretty cool if you ask me. Much of our day will be focused on writing. But for the first hour, I get to share what I have learned about WHOLE BRAIN TEACHING.
Before Christmas, my two wonderful and amazing blog-mates and their team were the guinea pigs. They began using some of the techniques with success. One thing they have learned is that it's probably more effective if you start it at the beginning of the school year. Regardless of this, our principal was/is intrigued and is ready to share it with staff. So of course, I can't do anything ho-hum. It's go big or go home with me. So I made my powerpoint and it turned into my newest Teachers Pay Teachers product. The coolest thing is that IT'S COMPLETELY FREE!!!! Do I hear WHOOP WHOOP?!?!?! That's one thing I love about Whole Brain Teaching. The only payment they ever expect when you download from their website:
http://www.wholebrainteaching.com/
is that you spread the word. I couldn't think of a better way to spread the word than by creating a fun and informative product that I will share with my staff as well as the rest of the teaching world on Teachers Pay Teachers and this little blog here.
You can go directly to
my TPT page for this FREE product.
Thanks!!!
OH YEAH!!!
~Stacey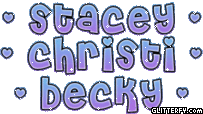 [Glitterfy.com - *Glitter Words*]