I am super excited to join Stacey and Becky on this exciting blogging journey! Blogging is something I've wanted to dive into, and now with Stacey helping me take this leap, watch out people! It's on!
I have been teaching for fifteen years, and I've been lucky to teach a variety of grade levels from Grade 1 to Grade 6. I'm currently teaching Grade 3 and am loving it!! It helps to have great team members. I love all things teaching-of course, the kids, but also the planning, the PLCs, the data,...everything. This love has led me to open up my Teacher Pay Teachers store! What a great way to share my passion of teaching! And now joining it with this blog......HEAVEN!!!! I'm looking forward to sharing and learning with these awesome co-authors of mine. They are awesome!!
Check out my TpT store:
Christi Chisum-Classroom Creations by CC
Here is one of my favorite lessons!
Compare and Contrast Bundle-Male and Female Singers
-Christi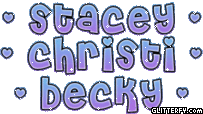 [Glitterfy.com - *Glitter Words*]